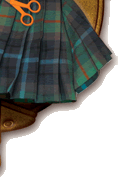 Our Store!
Kilt Rentals
Looking for a Kilt Hire shop to rent a Kilt on the USA side of the Atlantic?
Kilt rentals for weddings, social events, proms, even corporate events are our mainstay. Our rental inventory includes rental outfits from age 2 on up. We can outfit the Ring Bearer to the Father of the Bride even the wedding guests.
We drop ship to most places, homes, hotels, corporate offices, even embassies.
Custom Kilts
We make Kilts for personal use as well as for pipe bands. Our Kilts are made right here in Highland, New York from Tartans imported from the United Kingdom. We make a full range of Kilts; Formal, Casual, and Utility as well as Semi, Mini Kilts, Hostess Skirts for the ladies.
Complete Kilt Outfits
No Kilt shop would be complete without supplying the accessories
Do you need a Prince Charlie or Argyle jacket, a Sporran, a Belt and Waist Plate, a Sgian Dubh, a pair of Ghillie Brogues, Kilt Hose or all of the above. Put it together a piece at a time or all at once.
Kilt alterations
Did your Kilt shrink in the closet? Let your Kilt out or take it in. Refurbish an old Kilt. Need new straps? Repair the stitching? All are common requests.
Passing a Kilt down to your son or grandson, and it needs re-sizing, again another common request.