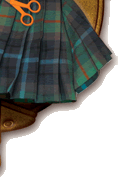 Bob and Doreen Browning
Doreen is really the Kiltmaker in this shop. She got into the craft the day she went to buy me a Kilt for my birthday. The person she went to see was Ann Stewart, Kiltmaker. During the course of the ordering, Doreen asked Ann if she wanted someone to sew for her. And that's where it all started. Doreen apprenticed under Ann for about 4+ years, sewing many custom Kilts for personal use and for Pipe Bands. When Ann decided to get out of the retail end of the business, we decided to buy her retail shop. And you haven't figured it out yet, that's how the name of the shop became "The Kiltmaker's Apprentice". Doreen has over thirty two years in the retail business, as both one of the workers and in management.
As for me, I guess you could say I am the Scottish anchor in the shop. My half of the business is the rentals, expanding into sales, highland games, etc. and as my former boss would say: "other duties as assigned". I have over 40 years in the computer industry as a technician, engineer and as a manager, none of which qualifies me for this job. Both Doreen and I are active members of "The Dutchess County Scottish Society" in New York and members of "The Clan Sutherland Society of North America" as well as "The Atlantic Association of Clan Sutherland".
Hope to hear from you soon, or see you in the shop.
Regards, Bob