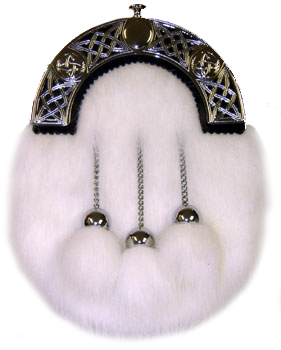 © L&M Highland Outfitters
(MSF-1018) Dress Sporran Faux Fur
$272.00 (Usually ships in 3 to 5 days)

Fur: White Faux Fur
Sporran Back: Black Grained Leather
Cantle: Open Weave
Tassels: White Faux Fur
Strap: Black Chain Strap Included


This particular sporran uses a faux white fur front. The back of the sporran is black grained leather. The three (3) fur tassels are also white faux fur. This sporran is also available in: Black or Grey (Click color choice ) This sporran comes complete with an adult sized (48.5?) smooth black leather/chain sporran strap as well as a storage box. Larger or smaller sized belts are available.