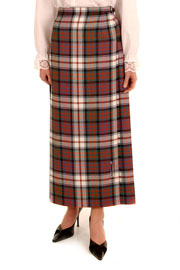 © Lochcarron USA
Hostess Skirt
$400.00 (Usually ships in 8 to 12 weeks)
The ladies Hostess skirt is a long (usually ankle length) kilted skirt, unlined, in 10oz fabric. The skirt is belted to the left with fringe running down the outside edge of the apron.

A selection of the available tartans in 10 oz weight from Lochcarron is shown by clicking HERE.
Other tartans are available from other mills, if you can't find yours here please call us.

Measurement notes; The measurement form is for a standard kilt, when measuring for a hostess skirt do the following:
A) Waist = your natural waist.
B) Hip = Hip at widest point
C) Length is the length you wish the skirt to be.


The measurement form will show after Loging in.

When completing your order click on "Call me and take my Credit Card over the phone"
After your order is placed we will call you to discuss your Tartan choice and wool options and finalize your order.